New Delhi. This time, the Delhi Metro Rail Corporation (DMRC) has also prepared to give a big gift to those watching the Republic Day Parade (Republic Day 2023). This time the country is going to celebrate the 74th Republic Day Celebration. On the day of the ceremony, DMRC has decided to provide free travel to those going on 'Kartavya Path'. But this opportunity will be given only to those people who have adopted some such method.
This time the Delhi Metro has decided to give free ride to the visitors going to attend the Republic Day celebrations on the Kartavya Path on January 26. For this, on showing the e-invitation card or e-ticket, the passengers will be provided with coupons for free travel at all stations of the metro network.
According to Delhi Metro, after reaching the Central Secretariat, Udyog Bhawan or Mandi House metro station, passengers will have the facility to reach the venue directly on 'Kartavya Path' to reach the venue. E-invitation card/e-ticket holders will again be able to reach their destination from Central Secretariat, Udyog Bhawan or Mandi House metro station after the Republic Day celebrations are over.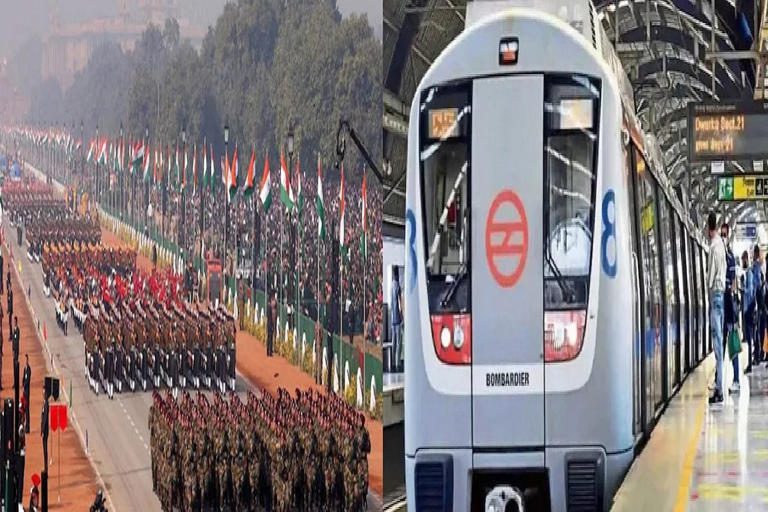 According to metro officials, coupons will be issued for travel only between 4:30 am to 08:00 am on January 26. With these tickets, after free travel, there will be facility of evacuation outside the metro station till 2 pm. According to DMRC spokesperson Anuj Dayal, to use this facility, it is mandatory for the passengers to have photo ID issued by the government. To get the ticket (coupon), it has to be shown at the metro station.
The Union Ministry of Defense has launched an 'Invitation Management Portal' (www.aamantran.mod.gov.in) named 'Amantran' for those wishing to observe the Republic Day celebrations. It has been started from 6th January. By visiting this, any interested person can book his 'online ticket'.School girls sang such a song by playing guitar in Delhi Metro, people became fans, Watch Video
The tickets have been divided into three categories by the Ministry of Defence. The ticket price has been fixed from ₹ 20 to ₹ 100 and ₹ 500. 32,000 invitation tickets have been arranged for online tickets. This time, the entire program will be organized on the theme of 'Women Power' in Republic Day and the President of Egypt, 'Abdel Fatah El-Sisi, will attend the Republic Day celebrations as the chief guest.
A total of 23 tableaux of the state and union territories as well as the central ministry and departments will be included in the Republic Day celebrations being celebrated this year, out of which 17 tableaux will be from the state and union territories, whereas, 6 tableaux will be included from the departments and ministries. Delhi Metro Passenger: Important News! Metro trains will run in Delhi from 4 am tomorrow, this is the reason