Nora Fatehi Latest Fashionable Photos: Nora Fatehi not only won the hearts of people with her dance performance at the IIFA Awards, but also stunned everyone with her killer looks. Wearing a dress with a deep-cut neckline, Hasina forced people to see her again and again.
The IIFA Awards held in Abu Dhabi has now concluded. However, Bollywood stars stunned IIFA with their looks and performance. During this, Bollywood's dancing queen Nora Fatehi also appeared, who is not interested in any identity today. Many of her beautiful looks were revealed during the IIFA Awards. Hasina was seen injuring badly with her killer looks and bo*ld style. Her blue color dress was not only worth seeing, but she was also intoxicated. She had chosen such a dress for such a big event, which was giving her a chance to show bo*ldness along with highlighting her figure. In this outfit, Hasina looked no less than a s*xy babe.
Nora wore a dress from this clothing brand
The dress that Nora had chosen for herself was picked up by Michael Cinco, a Dubai-based famous clothing brand. On which the embroidery work of sequences and beads was visible. The style of the actress was looking amazing in this tight fitting dress. The sequence was combined with a vertical pattern in a scallop style with matching fine threads on the dress. Beads of dark blue color were also done in between this sequence work, creating a combination of light and dark in the dress.
Deep-cut made the look bo*ld
On the other hand, the bo*ldest element in Nora's entire dress was her deep-cut plunging neckline, in which sheer fabric was added to the cleavage portion so that the look was not too revealing. A thin strip of beads was added to the neckline, making her stand out. At the same time, similar beads were visible on the thin straps, which were also creating a bling effect. Hasina's outfit also had a thigh-high slit, in which her toned legs were seen to be highlighted.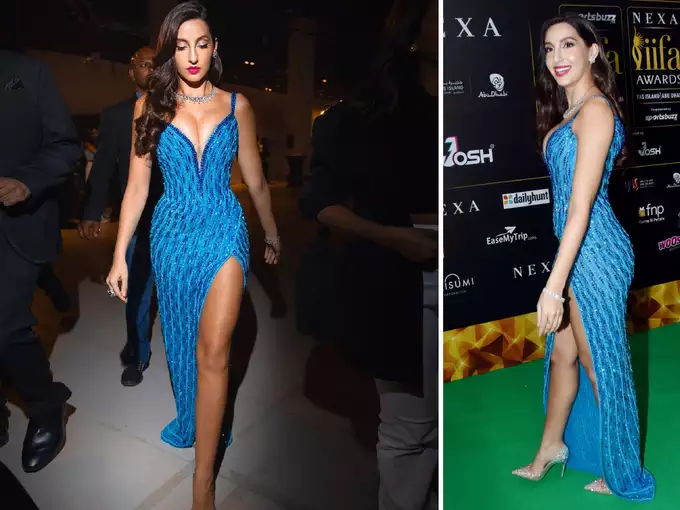 To increase the style quotient in this look, Nora had chosen silver jewelery. A diamond necklace around her neck, matching studs in her ear and a bracelet in her hand were completing her look. On the other hand, she wore silver shimmery pointed heels. For makeup, hair was left open in curls while side parted with dewy foundation, shimmery eye-shadow, winged eyeliner, rosy cheeks, dark pink lip.