New Delhi: Seeing a social media post of famous singer Shilpi Raj of Bhojpuri film industry, her fans were shocked. In the post, she wrote such things that everyone is speculating about her suicide. In such a situation, everyone is surprised to see the post that what happened to Shilpi, who is called Hit Machine, that she is thinking of suicide.
The post was written under the pressure of work
Shilpi has put an end to all the speculations in a recent interview given to a media house. In such a situation, she has accepted that she herself has written that post. In such a situation, she also said that she does not want to commit suicide. Shilpi termed that post as work pressure. It is a matter of relief that now she has said that everything is fine.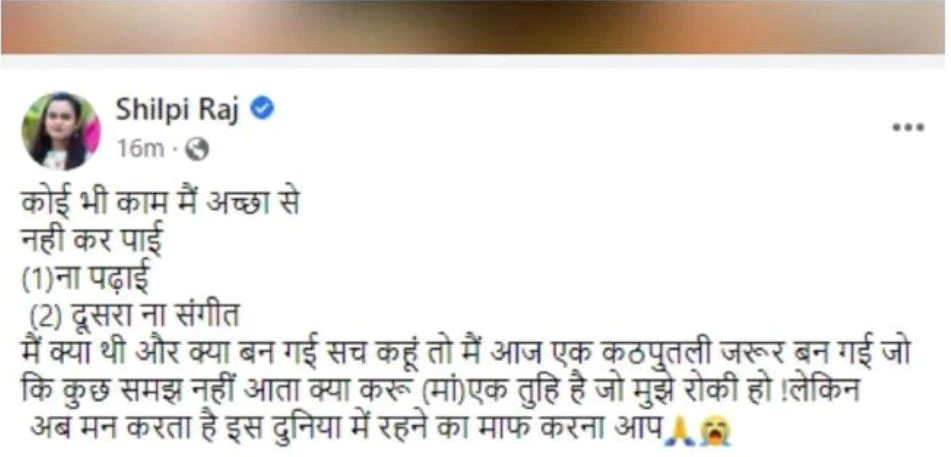 The post was written emotionally
Bhojpuri singer Shilpi Raj shared a post on Facebook. She writes in the post that 'I could not do any work well, neither study nor music… What was I and what have I become, to tell the truth, I have become a puppet. I don't understand what to do mother, you are the only one who has stopped me, but now I feel like living in this world, I am sorry!'
Told the news of suicide wrong
On this post of her, the users tried to boost her morale. In such a situation, Shilpi revealed that she had no intention. She says that I am absolutely fine, there was some work pressure due to which the post was written but now it is fine. Please tell that Shilpi Raj has given many hit songs with Pawan Singh and Khesari Lal Yadav.