Priyanka Chopra Nick Jonas welcomed a daughter into their family on January 15, 2022 through surrogacy. Priyanka and Nick have named their daughter 'Malti Marie Chopra Jonas' and now, for the first time, Priyanka has completely revealed her baby girl's face in a picture…
Priyanka Chopra Daughter First Photo Face Reveal: Bollywood's 'Desi Girl' Priyanka Chopra married American singer Nick Jonas on December 1, 2018 in a 'Big Fat Indian Wedding' in Rajasthan in which only her family members were present. And close friends were invited. Let us tell you that in 2022, through surrogacy, Priyanka and Nick gave birth to a daughter named 'Malti Marie Chopra Jonas' after the baby's maternal grandmother and grandmother. Priyanka has shared many family photos in the past months but her daughter's face is not visible in any photo. Now, for the first time, Priyanka has shown her daughter's face to the world…
Priyanka Chopra showed her daughter's face for the first time!
For your information, let us tell you that this global star, who is very active on social media, has posted a picture on her Instagram (Priyanka Chopra Instagram). This picture has been shared through the Stories feature of Instagram. In this photo, Priyanka has shown her daughter's face for the first time.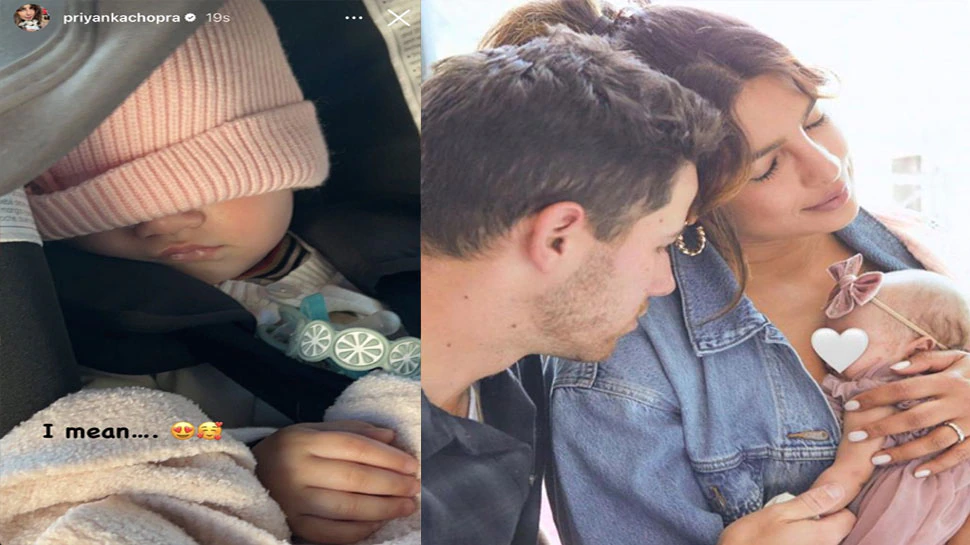 Seeing the cuteness will fill your heart
In this photo of Malti Marie Chopra Jonas, it can be seen that Malti is lying in a baby chair and is fast asleep. In this cold season, Malti is wearing many layers of clothes and her tiny hand is also visible. Priyanka Nick's daughter's eyes are covered by her little pink cap but her nose and her lips are visible. Seeing the round cheeks of Malti, the hearts of the fans are filled. Priyanka herself is shocked to see so much cuteness because she has written below in the photo- 'I mean…' (I mean…), as if she could not believe the cuteness.
Let us tell you that a few days ago Priyanka had come to Mumbai alone for a few days and the fans were very happy to see her back in the country.