Urfi Javed Photo: Urfi Javed is very active on Instagram. Sometime back on social media, the bo*ld and glamorous Urfi has shown her Aadhaar card picture to everyone, seeing which the fans are shocked. Have you seen this picture?
Urfi Javed Reveals her Aadhaar Card Photo: Famous for her bo*ld outfits and hot style, TV actress Urfi Javed knows what she should post on social media to create buzz about her. Let us tell you that some time ago, Urfi has put something on Instagram's story option, which no one expected and seeing which people are quite shocked. Urfi had shown her Aadhaar card photo to a friend and then when she posted a story about it, Urfi reposted the story. Urfi, who is always in bo*ld style, looks like in her Aadhaar card, let's see…
Urfi wearing bo*ld clothes looks like this in Aadhaar card!
As we just told you, Urfi Javed has revealed her Aadhaar card by resharing the story of one of her friends. In the photo, Urfi has hidden the details of the Aadhaar card with her own hands, but her own photo is clearly visible. Urfi is posing without makeup in this photo and it is very difficult to recognize her.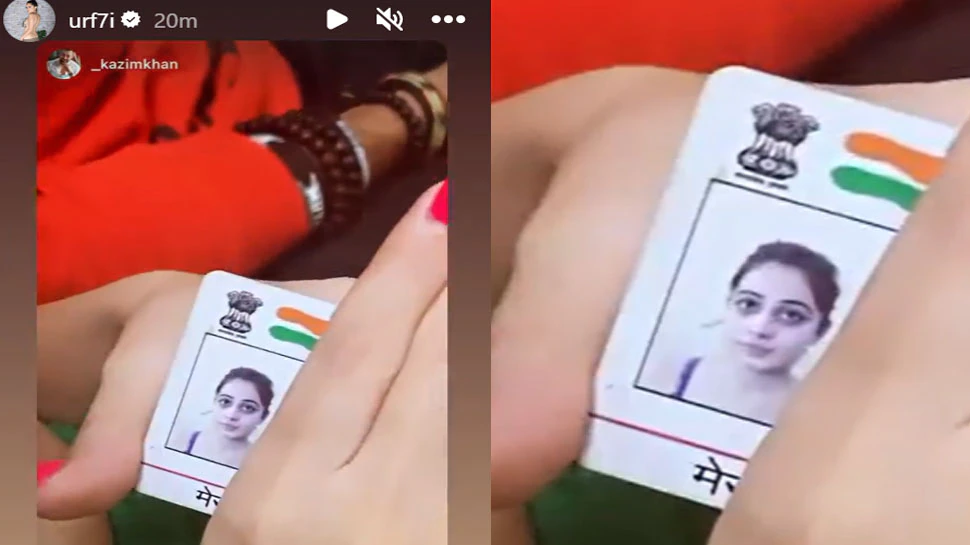 Urfi Javed herself showed the picture
In this photo that Urfi has posted, you can see that Urfi has not done makeup and not only this, her clothes are quite bo*ld here too. In her Aadhaar card photo, Urfi is wearing a noodle strap top or dress whose color is blue or purple. Please tell that this picture may be a bit old because Urfi is looking very young in it.
Urfi's friend who shared this photo on social media, has also written the word 'cutest' along with the photo.